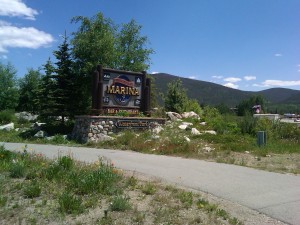 The Frisco Marina is where you need to go to rent Kayaks! We had a blast paddling around the near by islands! There is even an Osprey next on one island with a new baby! This is a must do for the adventuresome!
Frisco Bay Marina is located on the shores of scenic Dillon Reservoir in the heart of Summit County, Colorado.  The lake spans 3,300 acres and boasts 25 miles of shoreline surrounded by majestic peaks.  At 9,017 feet in elevation, the boating season is very weather dependent, but typically runs from early June to early or mid September.  Dillon Reservoir is in a world class for sailing and regattas are held regularly.
A full service marina
Spring Office Hours: Monday through Friday 9-5.    Don't hesitate to call, if we don't answer please leave a message. We will return your call as soon as possible.
Launch Ramp: Is currently closed till the ice melts.  Please call us with any questions.
Rentals: Are currently closed for the 2009 season. Thanks for a great season!  See you in June 2010.  Feel free to call the office or check out the web cam to see how the ice is melting.
The Frisco Bay Marina rental office is open seven days a week during the boating season.  During the off-season, Marina staff can be contacted about slips, moorings, racks, and rental information at (970) 668-4334 and appointments can also be arranged.
We offer canoe/kayak rack storage, boat dry storage, slips, and moorings, shrink wrap service and maintenance service for repairs.  Call (970) 668-4334 for rates and information.  We are currently on a waiting list for long-term slips and racks, please call or e-mail friscobaymarina@townoffrisco.com for more information.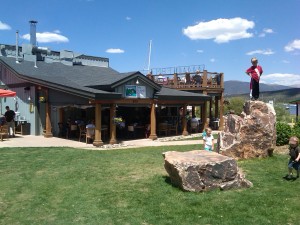 Two or Three people can enjoy this ride
Canoe ~ 2 Person
2 Hours $32
3 Hours $38
4 Hours $44
$7 Each Additional Hour
Canoe ~ 3 Person
2 Hours $38
3 Hours $44
4 Hours $50
$7 Each Additional Hour
Kayaks ~ Single
2 Hours $24
3 Hours $28
4 Hours $32
$7 Each Additional Hour
4 people = 16 fish to keep
Fishing Boat – 25 Hp
(4 people max)
2 Hours – $60
3 Hours – $80
4 Hours – $100
6 Hours – $120
8 Hours – $150
Runabouts – 115 Hp
(6 person max)
2 Hours – $132
3 Hours – $168
4 Hours – $189
6 Hours – $289
8 Hours – $342
Pontoon Boats – 75 Hp
(12 person max)
2 Hours $142
3 Hours – $180
4 Hours – $200
6 Hours – $350
8 Hours – $400
2 Hour Minimum
Prices subject to change.
Prices include fuel and PFDs.
No grills or heaters. No swimming or skiing.
Captains must be 18 years of age.
Visa or Mastercard required for rental.
Infants and Children included in head count.
Dogs welcome! (restrictions may apply to fishing boat)