It is hard to believe but Breck is getting bigger!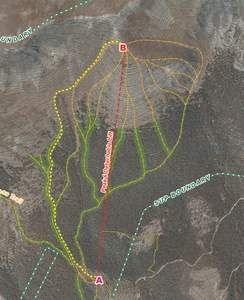 BRECKENRIDGE — Breckenridge Resort's plans to expand onto Peak 6 in the Tenmile Range are inching along, according to a recent update from the U.S. Forest Service. The agency plans to have a draft environmental analysis of the proposal available for public comment in the fall.
The ski area hopes to add a lift and new runs at its northern boundary. The terrain would cater to a variety of ability levels, but it would primarily feature intermediate slopes.
"That's a significant part of the Breckenridge market," said Roger Poirier, project team leader for the Forest Service. "What's really driving Peak 6 is the lack of (existing) intermediate terrain."
The proposed expansion, which would also include a restaurant and warming hut, is located inside the resort's permit boundary.
The White River National Forest began seeking public input on the proposal in January 2008. During the scoping process, many respondents expressed concern over potential social impacts, such as parking, workforce housing and transportation. As a result, a community task force was convened and met for seven months to examine more closely the Peak 6 project's ramifications for the local community. The Town of Breckenridge, Breckenridge Ski Resort and Summit County government are all in the process of formally adopting the task force's findings.
"Even if there aren't agreements on what's going to be done, everyone acknowledges what the issues really are, and they're formalizing their understanding of the action items to move forward with," Poirier said.
In response to the comments from the scoping process, White River National Forest officials have modified the proposed plan and developed an additional alternative plan, which addresses concerns over natural resource issues — most notably the project's potential impacts to the endangered Canada lynx.
The modified plan brings the lift's bottom terminal further south, closer to existing runs than was originally proposed.
"It's a much easier and more accessible spot for all types of skiers," Poirier said.
A second scenario, which takes into account impacts to habitat for lynx and other species, limits the extent of development to a smaller area, closer to the existing trail network.
Forest Service officials are now analyzing each scenario, including a no-development option. They expect to release a draft environmental impact statement for public comment in August or September.
"No scenario is perfect, and there's more than one way to move forward. One may be better for wildlife and the watershed but not as good for the recreational resource. We're weighing the differences and the good and bad associated with each," Poirier said.