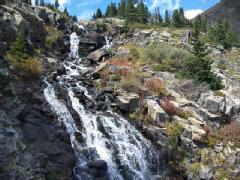 The Basics: 
Distance: 6 Miles roundtrip to Lower Mohawk Lake, 6.8 miles roundtrip to Upper Mohawk Lake
Elevation: 1,700-foot gain
Directions: From Breckenridge, drive south on U.S. Highway 9. From the last stoplight in Breckenridge to Spruce Creek Road is about 2.4 miles, turn right on Spruce Creek Road. Drive about 1 mile to a well marked parking area and trailhead.
This is one of his favorite hikes in Colorado. I figured it was a good choice as one of my final hikes of the summer.
This is also a good place for a scavenger hunt of sorts. As you do this hike look for cabins, cabin ruins and even the ruins of a mining operation. Later I'll tell you how many of these things I counted. You can see if your number is higher or lower.
The trail starts just outside Breckenridge, but it turns out there are two parking areas. We parked at the first parking area, 1 mile or so up the road at a sign saying "Spruce Creek Trail, Wheeler Trail Junction 1.8, Continental Falls 3.0, Mohawk Lakes 3.4." We figured 7 miles was a good distance today so we thought we were in the right place. It turns out, you can drive another two miles up the road and cut the hike drastically. You may need a 4-wheel drive on that section of the road. Since we didn't drive it, I can't tell you.
Starting the hike here was a good choice for us. The trail is beautiful. It winds through thick forest with moderate elevation gains, it was actually a good warmup for what was to come. The best part about hiking through this area was listening to the trees creaking. It's not often you hear that sound. We also watched a shower of pine needles come down when the wind would blow through. We found it a bit dark, but very quiet and peaceful. We even had two birds stop by and bounce around on the tree branches as we took a break for water and snacks.
At 1.8 miles in, you come to a trail junction with the Wheeler trail. Continue on just a few feet and you come to an open meadow. This gives you a beautiful view of what's to come. You can see the nearby peaks and even the stringy Continental Falls, the waterfall where we had lunch. We took several pictures here and enjoyed our first view of the leaves changing.
We walked on about 0.3 miles and the trail ended at a parking lot. We figured this was the second parking lot. Don't look for the trail right here, walk through the parking lot and you'll find a trail sign; it says it's .5 to Mayflower Lake, 1 to Lower Mohawk Lake and 1.5 to Upper Mohawk Lake.
This is where the trail starts to climb. Fortunately you know it's not far now. Just before Mayflower Lake there's another sign saying go right for Mayflower Lake, go left for Mohawk lakes and Continental Falls.
We decided to keep climbing and take some side trips on the way down. And climb we did. The elevation gain gets tough here at times. At least there's lots to see. This is also where you need to start looking for items from the scavenger hunt. At this split you'll see a few ruins of cabins.
Continue on to the next split. A sign tells you to turn right for a view of the lower falls or continue on to the Falls and Mohawk lakes. At this split you'll find one cabin ruin and a cabin that has been restored. It had a sign inside calling it Continental Cabin. It said it was restored for the enjoyment of guests. I'm not sure if you can stay inside, but it had the remains of a large fire ring and even a ladder to a loft. It was a nice surprise. And a good spot to get out of the wind and rain.
We decided to add the lower falls view for the hike down and continued up. The next sign we saw was a bit off trail. It marked a mine, and we added that for the list down. Then we came across a huge contraption of some sort. Some kind a lift and pulley system, likely for the mining operation. You can still see the huge cables here for lifting and lowering ore carts.
It wasn't much further from here to Lower Mohawk Lake. But when we arrived, so did the wind. Windy enough that we took a couple pictures and decided to turn around. It's not far from here to Upper Mohawk Lake. A ranger we passed said you can actually hike to Lake 3 and Lake 4 above Mohawk Lakes. We decided this was good enough. We typically eat lunch at our lake destination, but in this case we decided the waterfall would be a better spot.
We turned around and since the hike down was much easier, we decided it was time to take a few side trips. We stopped at that mine sign. Turns out if you take the little trail over to the sign, there's not one mine entrance, there are two. One mine had water, the other didn't. The warning signs explain it all the dangers; mines can collapse, they can have dangerous gases, etc. We took a picture and continued on.
The waterfall was definitely the place to have lunch. Typically waterfalls are not much to see in September, they're much better in spring and early summer. Not Continental Falls. It was putting on a good show in September, which means it's probably just amazing earlier in the year. We found a rock and had lunch. We also spotted our first ore cart down in the water.
On the way down, we also sidetracked to that lower Continental Falls view. It was also a good spot to stop. And we took the side trail to Mayflower Lake. While the lake didn't impress me much, the trail to it goes right through an old cabin. It was weird to think we were walking through what use to be someone's living quarters.
So, our totals? We saw two lakes, one waterfall, three mines, three ore carts, one restored cabin with a roof and sides and six cabins. I'm sure there's a lot more cabins and ore carts if you keep an eye out. At the bottom of this note, I'll have a list of where I saw mine so you can see if you spot the same ones.
I welcome your questions, comments and hiking suggestions. Just E-mail me at, bradfordg61@gamil.com
Previous hiking reports:(lower elevation hikes have a star)
Boulder:
Caribou Ranch*, Mallory Cave*, Marshall Mesa,Heil Valley Ranch* Forsythe Canyon*, South Boulder Peak*, The Boulder Flatirons*, Walker Ranch*, Bear Peak*, Rabbit Mountain*, Bald Mountain*, Betasso Preserve*, Wonderland Lake*
Golden area:
Forgotten Valley, Chimney Gulch*, Apex Park*
Jefferson County:
Mt. Falcon*, Elk Meadow*
I-70 area:
Herman Gulch, Chicago Lakes, Chief Mountain
Rocky Mountain National Park:
Granite Falls, Twin Sisters, Bierstadt Lake, Chasm Lake, Lulu City & Little Yellowstone, The Loch, Andrew's Glacier, Sandbeach Lake
Indian Peaks/James Peak Wilderness:
King, Bob & Betty Lakes, Forest Lakes, Arapaho Lakes, Mitchell & Blue Lakes, James Peak Area, Heart Lake
Northern Colorado: 
Homestead Meadows, Devil's Backbone*, Lake Agnes
Summit & Eagle Counties: 
Booth Falls, Missouri Lakes
Grand County:
St Louis Lake, Waterfall At Snow Mountain Ranch, Granby Ranch
Other:
Exploring Fulford Cave, Our Favorite Hikes, Our Favorite Bike Rides
Ore carts: waterfall, below Continental Cabin, on the shoreline at Lower Mohawk Lake.
Cabins: Continental Cabin, ruins of another cabin in same meadow, cabin you walk through on way to Mayflower lake, ruins of two others nearby, ruins of a cabin at trail split to Mayflower and Mohawk lakes.
Mines: two just off trail, tailings at Lower Mohawk Lake.