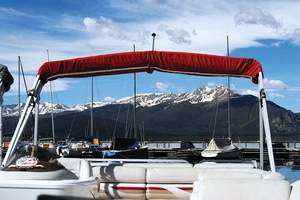 Touring Lake Dillon by boat is something the entire family can enjoy. We rent a house boat each year and every time we seem to find something new to explore.  We back a huge cooler with a picnic lunch and lots of beverages to enjoy throughout the day! The weather can change VERY quickly so I recommend starting in late morning because the storms and high winds tend to arrive in mid afternoon. A few years back we got pinned down in a very active storm with winds reaching in excess of 4 miles per hour…the kids thought it was a blast, but we all got pretty wet! Oh yes did I mention sunblock…lots of it!
DILLON — Want to scope out marmots, bear and birds while learning tantalizing details of Dillon history?
You can do all this while relaxing in your very own guided pontoon boat on Dillon Reservoir. For only $7 each, up to 14 people can fit in a boat on a one-hour cruise. Tours will be conducted Mondays and Tuesdays throughout June.
Whether you're visiting Summit County or call it your home, there's something for everyone on an "EXPLORE Lake Dillon" interpretive tour of the lake (and Denver Water's main water source). Just don't forget to dress in layers and slather on sunscreen. At almost 9,600 feet, the Dillon Reservoir can at one minute be hot and sunny, then cool and breezy.
Manned by a captain and Summit County Historical Society's tour guide Linda Kelly, guided tours start June 14 and last about an hour. With the help of the boat captain, Kelly will narrate the ride, covering different facets of Dillon Reservoir, the old town of Dillon which that was located beneath the lake, and the surrounding area.
"This is a first-year trial," said Dillon spokeswoman Susan Fairweather. "If it's received well, we'll consider adding additional dates."
Though the actual boat route could vary due to wind, tours will generally cover where the old town of Dillon used to be, what's what in terms of mountains and other landmarks, Roberts Tunnel (how the water is transported to Denver from the reservoir), the Dillon Nature Preserve, lodgepole pines and its decimation by the mountain pine beetle, the early days of the railroad, and Summit County's mining history.
The Dillon Marina will soon be giving guided tours on their pontoon boats in conjunction with the Summit Historical Society. The tours will relate to the history of the reservoir and surrounding areas including old Dillon, mining and the mountain ranges visible from the lake.
Summit Daily/Mark Fox
More info:
"EXPLORE" Lake Dillon boat tours will be conducted Mondays and Tuesdays: June 14, 15, 21, 22, at 9:45 a.m.
Tours will start at the Dillon Marina for $7 per person, and reservations are a must.
Minimum age: 7
Call (970) 468-5100 or visit www.dillonmarina.com for more information.