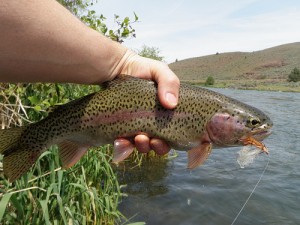 Skinny Water Fishing Tips
A few tips for fishing in lower water
 With snow pack in the high country at an all time low, we need to prepare ourselves for a more technical fishing season.  Here are a few tips to help bring some more fish to hand in lower flows.* 
Give "Chubby" a chance
You can utilize a hopper-dropper rig in most rivers as opposed to an indicator set up when flows are low.  Attaching your nymphs below a hopper at a 90 degree angle not only gives you a better connection point for your nymphs,  but low water years will drive grasshoppers closer to river banks.  Nothing can beat the aggressive surface take of a hopper!
* If your hand tied Super-crystal-flasha-mc-rubber isn't working, go a little more naturalistic.
Last year we got a little spoiled tossing our elaborate, flashy, fun #6 nymphs all year (due to the extreme high flows) but this year might be a different story.  Fish will become far more selective in low, clear flows when they can actually take a second to examine their meal.  I am not saying to rule out your Crystal Hunchback Baetis all year but if fish are being picky, something a bit more naturalistic (such as a Rainy's Real Meal) might be the ticket.
Rainy's Real Meal, an example of one of the many naturalistic patterns to consider this season
* Put the damn fish back in the water!This one is easy.  When water temps rise, fish get exhausted far more quickly than when temps are at normal levels.  If you fight a fish for a long period of time, or even a short period, don't toss him on the bank or have your buddy give him the "death grip" while you take 5 minutes to find your camera.   This should be common practice at all times but especially when water temps are high.  If you need some time to find all of your photography equipment, video cameras and make your call to "The Drake" to let them know you have next months cover photo, keep your fish in the water facing upstream in your net and keep the handling to a minimum.  No one wants to be known as that guy who is a little "handsy".