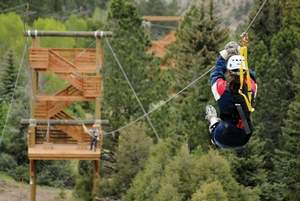 This is a ball!
Stand up, lean forward and jump off the five-story tower.Don't worry, though — you're clipped into a cable designed to withstand a 4,500-pound tug.Still, there's something unnatural about being so high and leaping into the unknown, even with mechanical devices ready to catch your fall and send you careening at speeds of 35-40 mph through Colorado Adventure Center's new zipline in Idaho Springs.The adventure center and the new zipline are the product of a recent merger between longtime Summit County companies Highside Adventure Tours and Goodtimes Rafting and Glenwood Springs companies Rock Gardens Rafting and Glenwood Canyon Zipline.
Now, it's four companies under one roof, able to service all of Interstate 70 between Idaho Springs and Glenwood Springs. Which means they can pull customers from Fort Collins to Colorado Springs in the east, capture some of the Vail market and draw from Western Slope cities.
"There are a lot of synergies between our companies," said John Cantamessa, one of the four owners. "We are all good friends and we have proven we can do business together."
Cantamessa originally bought Goodtimes Rafting from Kevin and Kathy Schneider. They became better friends during the transaction, and joked about joining their companies again. This winter, it became reality between the three along with the fourth owner, Jeff Hale.
Each of the four bring skills to the table, Cantamessa said. The Schneiders have marketing expertise, Cantamessa has extensive river know-how and Hale comes with a state parks perspective as well as experience as a charter captain and mountaineer.
"When you bring four people together with great skills, you're going to get a great product," Cantamessa said.
They raft Clear Creek, the Blue, the Arkansas, Upper and Lower Colorado stretches and the Roaring Fork. The also run bike shuttles, fishing tours and horseback riding.
And now, the company offers two ziplines — one in Glenwood Springs and one that opened this weekend in Idaho Springs.
Having all the offerings is ideal, Cantamessa said. He wanted to get into the Vail and Glenwood Springs market, but found it tough to snag without a Roaring Fork permit and Shoshone permit on the Colorado River. Rock Gardens found it tough to snag the Summit County and Front Range markets without the Upper Colorado, Blue and Arkansas river permits.
At about the time the merger went through this winter, Cantamessa and Kevin Schneider toured the new, riverside property that will become the adventure center's Idaho Springs home. They finalized the purchase of approximately 10 acres of land and in March, began building the five towers that make up 3,000 feet of zipline. It was completed by firm Challenge Design Innovations, which does everything from recreational canopy tours to military tactical training facilities.
A good year to add activities
It's a good year for a zipline to be added into the mix, Cantamessa said.
"We're happy, because with the lack of water in some drainages, people still want to have fun. Zipping is the next best thing to rafting and biking," he said, adding that it's an ideal activity to create combo packages for those wanting to limit rafting to a half-day, but still fill the day with other activities. To do just the zipping, it costs $80 for five rides.
"Highside has always seen a strong correlation between people who raft and bike," Cantamessa said, which was the impetus for creating the eastern zone zipline.
It's said to be the longest tower-to-tower system in Colorado, with longer ones being canyon systems. One zip stretches a quarter-mile, and runs over Clear Creek. Zippers can wave to I-70 traffic as cars pass, or lean back and enjoy the view of the river.
The company is proud of its new location, and it's already paying off with walk-in customers who stop by after seeing the system and signs from the highway. Owner and workers are busy working out a few operational kinks as well as completing the landscaping of the project's initial phase. Future plans include building an aerial adventure park akin to the Glenwood Springs' facility, and down the road bringing the boathouse upstream.
Cantamessa hopes he's in front of the curve with the Idaho Springs zipline. He expects ski areas to build ziplines in the near future as part of the new summer recreation opportunities with the U.S. Forest Service. Some resorts have had short ziplines in the past, and Copper Mountain has had plans on the books for a 300-foot, multi-seasonal zipline at The Village at Copper.