Summit Peaks and Riverside Lodge has launched an aggressive initiative to help improve our surrounding  Forests! We offer 1 to 5 day conservation projects in the White River Forest. These projects include but are not limited to trail improvement,wildlife habitat projects, reforestation and Fire protection projects. Lead by mountain guide Mike McKernan, we will customize project to meet your needs. For specific project details Mike can be reached at 970-485-4945.
Come enjoy the mountains and improve Summit County during the same trip!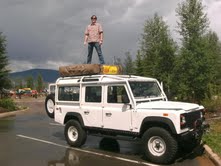 At approximately 2.3 million acres, the White River is one of the biggest sections of the National Forest System. With 10 peaks over 14,000 feet, and eight Wilderness areas encompassing more than 750,000 acres, the Forest is also world-reknowned for its scenery.
Our mission of caring for the land and serving people means that we take pride in being the lead in the conservation and wise use of our Nation's forests. As the most popular forest for recreation and as one of the first National Forests carved by Congress from the original forest reserves, the White River National Forest enjoys a proud heritage in the US Forest Service.