This is a great day hike for someone that wants a challenging 8 hour day. I did it with my son and believe the view to be some of the best. The trail head is only about 80 minutes for the Lodge. Tuhare Lake might be one of the prettiest lakes I have seen in Colorado! The Lake's crystal  clean waters is special and it is nestled in between snow covered Peaks!
South Slopes Route
The easiest route would be the South Slopes Route which starts at the Fall Creek TH and ascends to the Tuhare Lakes Basin. The route is long at 14.2 miles however the vertical gain is only 3,500-ft. I recommend this route when the monsoon season has kicked in. The route stays off of exposed ridges for most of the day and last second ascends the south slopes of UN13,821.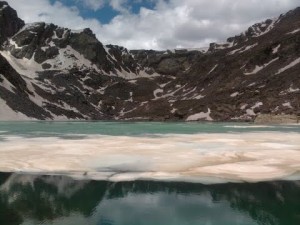 Holy Cross Ridge or UN13,831 is the highpoint on a long and beautiful ridge running south-southwest from the great fourteener Mount of the Holy Cross. The ridge harbors three ranked thirteeners and of course, the popular above mentioned fourteener. Residing directly on the north, south running ridge is Mount of the Holy Cross, the Cenntenial thirteener UN13,831, and lesser known UN13,768, and the unofficially named "Fancy Peak" (13,192,)just north of its named pass.
Holy Cross Ridge resides in the northern mountains of the Sawatch Range, extending from the summit of Mount of the Holy Cross south for about 4 miles to Fancy Pass (12,380-ft.) This ridge separates the vast Cross Creek Drainage to the west, from a series of smaller lake-ridden areas to the east. This area east of the ridge includes the beautiful Tuhare Lakes, Lake Constantine, Seven Sisters Lakes, Cleveland Lake, The Mulhall Lakes and the intimate Hunky Dory Lake.
Overshadowed by its more famous 14er neighbor, the ranked summits of Holy Cross Ridge are not climbed often and attaining them requires a physical effort greater than most standard routes on fourteeners. Sticking to the typical Sawatch mountaineering theme, expect a long approach, heavy vertical gain, and endless class 2 hiking on talus.