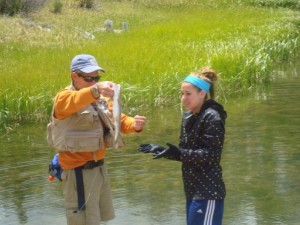 As you have probably concluded we love Colorado for many reasons! Reason Number 76 is the DNR (Department of Natural Resources) does an unbelievable job of repopulating fish in our Rivers. Below describes one such effort. I find it interesting how much effort goes into making  Colorado what it is today!
As part of an ongoing effort to improve river habitat for several endangered fish species, releases from various reservoirs will be increased this week and next as part of the Coordinated Reservoirs Operations Program.
Iniated in 1995 as part of the Upper Colorado River Endangered Fish Recovery Program, the coordinated release effort is aimed to enhance spring peak flows in the Colorado critical to the survival of four species: the humpback chub, razorback sucker, bonytail chub and Colorad pikeminnow. Friday and Saturday, Green Mountain Reservoir releases were increased by 200 cubic feet per second, and outflows from Wolford Mountain Reservoir were increased by 200 cfs above inflow over the weekend. Increased outflows may continue through Wednesday.
"The release boosting this year's Colorado River peak are a tonic that will make the river healtheir, and that benefits everyone from water users, to recreation and all the fish that call the river home," said Bart Miller, Water Program Director for Western Resources Advocates.