Our family  rents a boat here each summer. The experience is one of a kind. This is a highly recommended activity! Yes a the Tikki bar afterwards is the best!;))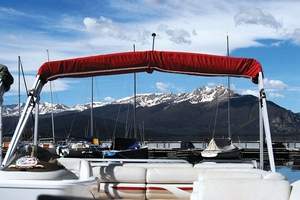 Lake Dillon is the largest lake in the area and offers magnificent mountain vistas, with easy access to the Town of Dillon, shopping, lodging, RV sites, and camping. The Dillon Marina hosts exciting weekend sailing regattas and other boating events for fun and sport. The marina offers a full service maintenance shop with slip rentals available for short or long term. Motorboats and sailboats are available for exploring the lake, fishing or basking in the summer sun. The lake is home to Brown trout and Rainbow trout. With 26 miles of shoreline, finding a nice secluded spot to cast is not a problem.
Discover summer fun for the entire family. The Dillon Marina is a full-service marina in Summit County that offers access to beautiful Lake Dillon and world class sailing in Colorado. Boating, trout fishing and mountain recreation opportunities abound. The marina offers boat rentals, sailing instruction, racing regattas and is home to the Dillon Yacht Club, the highest club in North America at over 9000 feet in elevation.
The recreational choices in the area are endless. Across from the marina is a trailhead to miles of paved bike paths offering spectacular scenic tours. The surrounding National Forest also provides mountain-biking, rafting, fishing, hiking, horseback riding and camping. Jeep tours on old mountain roads will take you to nearby historical mining towns. Be challenged at one of Summit County's four championship golf courses. In Dillon, play a set of tennis, or simply take a stroll and have a picnic by the lake. The pace here is easy.

AVAILABILITY
Our rental boats are available starting at 9:00 AM and must be returned for the day by 5:30PM. Boats returned after a scheduled return time or after 5:30 will incur a late fee of $75.00 + any additional rental time used.
PLEASE NOTE! A reservation is NOT final until a Dillon Marina crew member has contacted you for a visa or mastercard# to secure this reservation. If your request is for an immediate or same day boat rental, please call the marina directly at 970-468-5100.

RENTAL PERIODS
All boats are rented for either a 2-hour, 3-hour or 4-hour period, with 2 hours being the minimum rental period. An 8 hour or full day rental is two times the 4 hour rate.
FUEL

Boat rental rates do not include the cost of fuel. Fuel prices vary.
AGE RESTRICTIONS
Boat skippers must be at least 21 years old
BOAT CAPACITY
Maximum boat capacity for each boat type includes ALL persons aboard (including infants and children) and cannot be negotiated.
LIFE JACKETS
Life jackets are included in the cost of the rental. All children 13 and under are required to wear thier life jackets at all times.
RENTAL REQUIREMENTS
Rental customers are required to leave their drivers license and either a Master card or VISA card as security while on the water. Boats will NOT be rented without a credit card.
Colorado Law states: It is illegal to operate any boat under the influence of alcohol!
CANCELLATION POLICY
A reservation may be cancelled at any time prior to 48 hours before your scheduled rental, with no penalty. Reservations cancelled within 48 hours will incur a cancellation penalty of 20% of the rental fee which will be charged to your credit card.
FISHING
We DO NOT sell fishing licenses and stock very limited fishing supplies in our ship store. If you plan on fishing, it is a good idea to obtain these items prior to renting a boat.
RESERVOIR RESTRICTIONS
Swimming, jetskiing, waterskiing and tubing are not allowed on the reservoir.
The speed limit on the reservoir is 30 mph.
Runabout 18′
Dillon Marina's 18′ Runabouts have a maximum capacity of 6 people. The boats have a 130hp inboard motor and a side-console steering wheel. All runabouts have an open bow & come with a bimini for optional sun and weather protection.
2-hours: $105.00
3-hours: $140.00
4-hours: $170.00